Far too little and far too much at the same time
Untitled (The Moon), Willhelm Sasnal
---
So I ended up reading about and talking about and tweeting about and yes writing about Jeff Bezos a whole bunch this week more than I prefer to be honest but I will do just a little bit more of it for you all because I give and I give.
Despite the topics of some past newsletters and the fact that I write a lot about funding, I don't particularly enjoy writing about billionaires. Maybe one reason is I've always had kind of an allergy to stuff that people are paying attention to, which is pretty awesome for a career in journalism as you can imagine. But when you pay too much attention to people like Bill Gates, you miss out on more interesting stories on the margins about levers of power, how change happens, hypocrisy, redemption, surprise victories, etc.
But anyway, every now and then something happens that gets everyone interested in philanthropy, which is happening a lot more often. But this was a really big one, you may have heard the CEO of this company called www.amazon.com decided to commit $10 billion to addressing climate change. I always find these moments kind of frustrating in a petty way, because everyone writes a take and some of those takes are not that hot I find.
They aren't wrong, necessarily, but you can feel people struggling with what exactly to say about big philanthropy, as they feel compelled to say good things about things they suspect are bad, or bad things about things they suspect are good. Over the years of covering the sector I've thought a lot about these contradictions about power and inequality and influence, but also progress and urgent causes and great people in the nonprofit sector (1 in 10 jobs) and great funders and you know it can be a real mess. This was I suspect my best attempt to make sense of it all.
I'm not saying I am like the master of writing about philanthropy, but at this point I have a decent understanding of the moving parts, let's say. And most coverage hits on maybe one of these parts. So common responses were, yes but Amazon is really bad. Or it's fucked up how much money Jeff Bezos has he needs to pay more taxes. Or, I don't trust his intentions. Or, all this money is super awesome, it should go to this one climate change solution because I'm a smartypants and this is the right one.
The anger toward the corporation and the inequality behind the philanthropy I do really appreciate, and it's great that those takes are more common instead of a lot of blind positive coverage. But after you say that, it's kind of like, then what? Because beyond whether we think this is a good thing or a bad thing, or even what cause it's earmarked for, what happens next—how the money moves and how certain people will wield it—has high stakes.
So I did my at least warm take I hope, which was—there are many problematic aspects of this announcement, let's try to think about what it would really take, based on what we know about the history of major funding initiatives, for this influx of $10 billion to have a positive influence. Here's part:
When philanthropy reaches the scale of Bezos's recent $10 billion pledge to address climate change, it always feels to me like far too little and far too much at the same time—too little of his accumulated wealth and too much potential influence.

Add to that Amazon's huge carbon footprint, the tech services it provides for oil and gas extraction, and the fact that the company managed to pay zero federal corporate income taxes in 2018, and the mixed reaction to this week's announcement of the Bezos Earth Fund is completely understandable.

…

Of course, it's also just a lot of sorely needed funding for this most important and time-sensitive cause. For comparison, if the Bezos Earth Fund were to become an endowed foundation, its minimum annual payout would be $500 million, nearly five times what the Hewlett Foundation, the field leader, granted for climate in 2018. Even as folks rightly point out that it's a relatively small chunk of his net worth (7.7%), or that he should be bearing a greater burden based on his contribution to the problem, this is still game-changing money coming into climate philanthropy.

So at the risk of wild speculation, the announcement presents us with an opportunity to ask what guiding principles might put such a windfall to proper use.
The spoiler is that Bezos would first have to get his company's shit together. Then yield decision-making power to people working on the issue and dealing with it on the ground, support grassroots action in impacted communities, avoid one top-down strategy, and a couple other things. I'm under no delusion these things will happen btw but you know let's set a high bar. You can read the whole thing here I am not sure if it's behind the paywall.
Drag Anchor Redux
There was some news this week on natural gas and methane that I wanted to share in light of last week's beating up on Bloomberg for enabling the fracking boom because I do love a good told you so.
There's this article, in which a study found that, "Oil and gas production may be responsible for a far larger share of the soaring levels of methane, a powerful greenhouse gas, in the earth's atmosphere than previously thought."
So back when people were all about the idea of gas as a bridge fuel, the narrative was that yes there was a chance that resulting methane pollution could be bad, but many including funders and big green groups were basically saying, well let's just make sure this gas extraction is done in a good way because that's environmentalism. Turns out it is much worse than industry let on.
From Shipwreck, some weird interdimensional scifi from Warren Ellis and Phil Hester
It's true that methane is a short-lived climate pollutant, so different than CO2 in that regard. But it doesn't look like it's going away anytime soon because, as this other article pointed out, we now have all of this new fossil fuel infrastructure and a glut of cheap gas in the system:
Gas is such a bargain that it's being viewed less as a bridge fossil fuel, driving the world away from dirtier coal toward a clean-energy future, and more as a hurdle that could slow the trip down. Some forecasters are predicting prices will stay low for years, making it tough for states, cities and utilities to achieve their goals of being zero-carbon in power production by 2050 or earlier.

"The fact that there's an abundance of it makes the move to complete decarbonizaton much harder," says Ravina Advani, head of energy, natural resources and renewables at BNP Paribas SA.
Yes, this article is from Bloomberg news, and it has a little note at the end about all of Mike Bloomberg's climate funding which is just chef's kiss, considering he once wrote in an op-ed, "Fracking for natural gas can be as good for our environment as it is for our economy and our wallets, but only if done responsibly."
Anyway, one more thing, because of all this news happening I was Extremely Online more than usual this week which is not great for a person's head and why I may seem a little cranky today. I was getting annoyed at the parade of climate dudes and philanthropy dudes in the news, even though I am 100% both of those dudes. So as a remedy, check out this post and twitter list by Jen Bokoff if you want to hear from or elevate women and diverse voices who have been engaged with and challenging philanthropy for long before the current wave of critique. Gaining a Say: Lifting Up Philanthropy's Unheard Voices
---
Links
---
Reading
Another good book I read over vacation was Cadwell Turnbull's The Lesson, which is an alien invasion story set in the US Virgin Islands. Character-driven, a fascinating historic backdrop, it explores colonialism and violence through understated scifi elements.
---
Watching
Also coincidentally about violence and colonialism via scifi was Season 4 of The Expanse, which I finished this week. It's equally concerned with the science of the distant future and space exploration as it is with the social and political implications. It's the only space opera scifi, especially on TV, where I'm like yeah this seems kind of plausible. There's also this character Bobbie and she is a real badass. Just a heads up if you're terrified of slugs like I am, there's some serious slug horror in one episode but you can do it be brave. You can tune in and watch it on, sigh, you know where.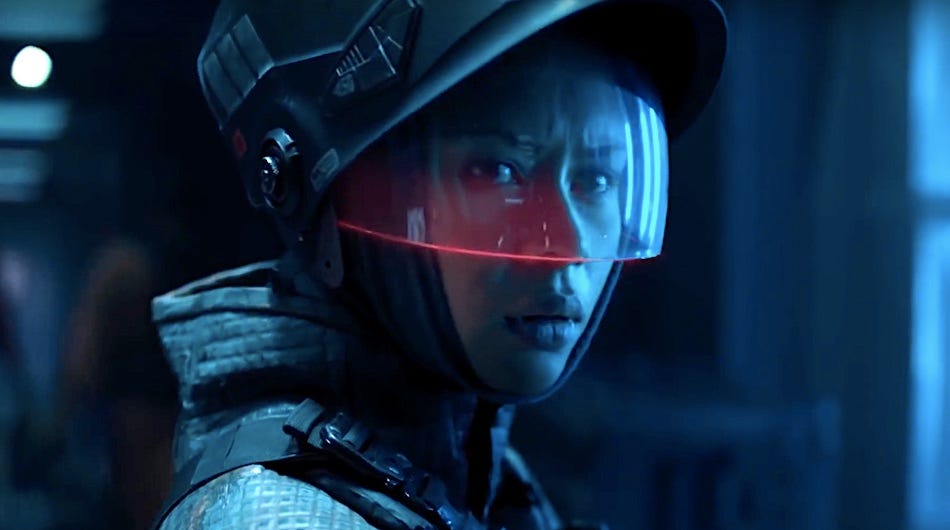 Kick his ass Bobbie
---
Podcasts
Two pods to recommend this week. First up, one organization that I really think the world of, it is actually a network of a bunch of groups, is the Climate Justice Alliance. Now they have a podcast! It is called Stories from Home: Living the Just Transition.
CJA is really into the importance of art and culture being a part of equitable climate action, and I loved this thing that writer Samantha Harvey said in the first episode, "If you separate emotion and culture from the work you're doing, it's very easy to forget who you're affecting and who you're speaking for."
Second one is The Slowdown, hosted by poet and former poet laureate Tracy K. Smith. The Slowdown delivers one poem every weekday, read by Smith along with some words of wisdom as she introduces it. For example:
I wish I could say to everyone who lives with a fear of poetry, hey, relax, you don't always have to understand. You can let it nudge you, let it cause something to stir. The sounds of words gliding along next to one another, the glimpse of an image, a face, an animal, something taking flight.
They are short little moments of shelter and warmth and thought, only around five minutes each and if you listen at 2x speed for efficiency, even shorter just kidding just kidding.
---
This week I wanted to end on a sad note but an important one, and take a minute to remember a very dear friend who recently passed away, Ed Johnson. Over the years, I was fortunate enough to have Ed in my life as a fellow organizer and fundraiser, a boss, a mentor, and finally, a friend. He died last week after a nearly 13-year battle against Multiple Myeloma.
There are countless tributes online from all the people he impacted over the years, and the fact that they all touch on some similar themes speaks volumes about his integrity and his ability to connect with people. I was talking with my friend Pat, who was very close to Ed, and we were remarking about how the thing about him is that he somehow brought out the best in all of the people in his orbit. He could see whatever spark a person had to offer the world, and draw it out, even if we didn't always see it in ourselves. And Pat said, yeah but the other thing was that Ed always gave you the best of himself too.
It's hard to put into words how much I learned from him, about people, about serving a purpose, saying the thing that needs to be said, doing the thing that needs to be done. And, of course, he was just a fun, hilarious, sweet person to hang out with. I will miss him so, so much.
Hug your people,
Tate